Campsite – Love Locks Field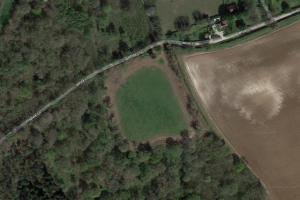 Love Locks Field is a Greenfield site in the countryside just outside Basingstoke on the Malshanger estate. A number of groups in Basingstoke West District Scouts have used the field over the last 20 years or more as a camp site and the site is now becoming more popular. With the increase in use Malshanger Estate office have asked Basingstoke West District, as the Scout District where the field is located, accept responsibility for booking and use of the site.
About Love Locks Field
The field is just that; a rectangle of grassed space with a water tap (off the water trough) and fences around it. The boundaries are all surrounded by high hedge or wood and the site is therefore reasonably sheltered. Although on a slight slope there are flat bits to place the sleeping tents. Digging of latrines and disposal of human waste is not permitted on the site, so sealable Elsan type "Porta Potties" are a must, as you will need to take all waste away. Cutting turf to make a fire and/or wet pit is permitted, so you can keep the amount you need to clear away to a minimum.
Booking for the site is now by online booking form (link below) which must be used for all bookings. To book the site you need to submit a booking form at least 4 weeks prior to your requested dates. This is to allow time for the estate to approach the lessee and arrange for the field to be prepared for Scout use.  This booking form is submitted direct to the Estate Office who will respond to the requestor.  A copy of the request is also sent to ADC Activities BWDS.
Nights Away Permit
Being a Greenfield site you will need to have a Greenfield NAP holder as part of your team on the camp. You can of course always be assessed for your NAP whilst running your camp at this site.
Site Visits
To appreciate the site you need to visit. If you wish to do so please get in touch with Bob Cooper (details below) to arrange. To give you an idea of your remoteness and the location, you can find it here
Booking
Usage Restrictions
Use of this site is restricted to:
Basingstoke West District Scouts
Basingstoke East District Scouts
Silchester District Scouts
Please do not submit an application to camp here if you are not part of the above districts as we will have to refuse the application. The landowner has stated that the site is for local Scout District use only.
Getting in touch
General queries (not bookings – which must be on the booking form below) can be made to Bob Cooper, ADC Activities, BWDS, at activities@bwds.org.uk
Booking Form
Email activities@bwds.org.uk to book