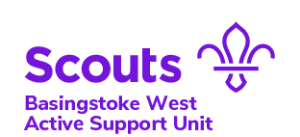 Welcome to the Scout Active Support Section of our District website.
Scout Active Support is an integral part of the Scout movement in the same way as any other group or section.
We exist to provide a skilled resource to support scouting in Basingstoke West District and to have fun.
The majority of our members are, or have been leaders, or held executive posts at varying levels within the movement but this is not a requirement. Membership is open to anyone over eighteen who wishes to support scouting. All members must have Scouting DBS clearance.
Participation in Active Support activities can be as much or as little as members wish although we would hope that is more rather than less.
What do we do? Our support activities cover a whole range of things. We provide judges for and/or organise District competitions (Scout cooking; Beaver Challenge; Cub Challenge; etc.). We provide help and support at St George's Day; District AGM; District Camps; and other District events. We host some County SAS events and can provide support to individual groups for special events when requested.
Meetings
Scout Active Support also has a social side. We have an annual dinner; an annual BBQ; walks, visits, a skittles evening and other events.
We meet on the third Monday of most months, at the Church of Christ the King, Brighton Hill at 20:00.
---
Contact Active Support