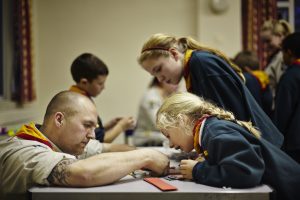 Many people have questions when they consider Volunteering in Scouting. Below we answer a few of them:
Do I have the skills required?

Probably, yes! We all have skills that are useful and there are so many ways to volunteer in Scouting.
One of the benefits to volunteering with Scouting is to learn new skills yourself. With ongoing training and sharing skills with other leaders, we are all learning constantly.

How much time will I need to Volunteer?

The amount of time you offer is entirely up to you! Whether it's at weekly meetings or only at camps or special events there is a place for everyone.

What's in it for me?

Scouting not only offers the opportunity to develop personal skills such as teamwork,  confidence and leadership but you could gain externally recognised skills. More importantly, it is very rewarding and you'll have a great time!

Are there any age restrictions?

As long as you are over 18 years old then you can help as an Adult Volunteer.
If you are 14 – 18 years old then there are opportunities to be a Young Leader.