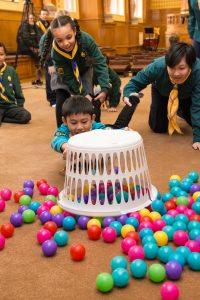 Scouting is the UK's biggest mixed youth organisation giving those aged between 6 to 25 years Skills For Life. We offer a wide range of fun and adventurous activities that will be fun, challenging and unique as well as giving them the chance to help others so that we make a positive impact in communities.
We rely on two groups of people to make Scouting what it is today:
Our Youth Members
Our Adult Volunteers
Youth Membership
Youth membership is for anyone aged between 6 and 18 yrs of age. There are five sections you can join, depending on your age.
The activities and opportunities vary but what is the same is that each will empower you to make friends, learn Skills For Life and try new things.
Read more on Youth Membership or Sign Up
Adult Volunteers
Adult Volunteering is open to anyone aged 18+
"Scouting is a character factory" – Not our words, but those of our lead volunteer, Chief Scout – Bear Grylls.
Are you ready to inspire a generation of young people to experience fun, friendship and real adventure? The opportunities to volunteer within Scouting are really flexible from the front line Leaders to 'back office' support.